Remember the days when you were traveling and had to lug around your heavy, full-size DSLR?  Add a few lenses, some basic equipment needed for a shoot, your laptop, cables, chargers, etc. and it quickly adds up to 15+ pounds.  Those days are over.  At least for me.
I'm pretty sure by now you know how much I love my Fuji Xcam system.  In addition to the amazing image quality that Fuji's are known for, there is another huge benefit of owning these powerful cameras: traveling light with pro gear.
When Fuji announced the X-T1, I was super excited for the new, upgraded sensor as well as other features such as the ability to use UHS-II SD Cards, the interval timer, and more.  There was one feature that I was indifferent on, until now: built-in wifi on the camera.  Oh yeah, in case you didn't hear, Adobe recently released Lightroom for mobile.  Yes, you heard that right…Lightroom for mobile!  Let me explain where I'm going with this…
The days of traveling with bulky gear is over.  With my Fujifilm X-T1, I'm now traveling light AND have all the gear I need to shoot, edit, and deliver photos to my client – from the road.
Gear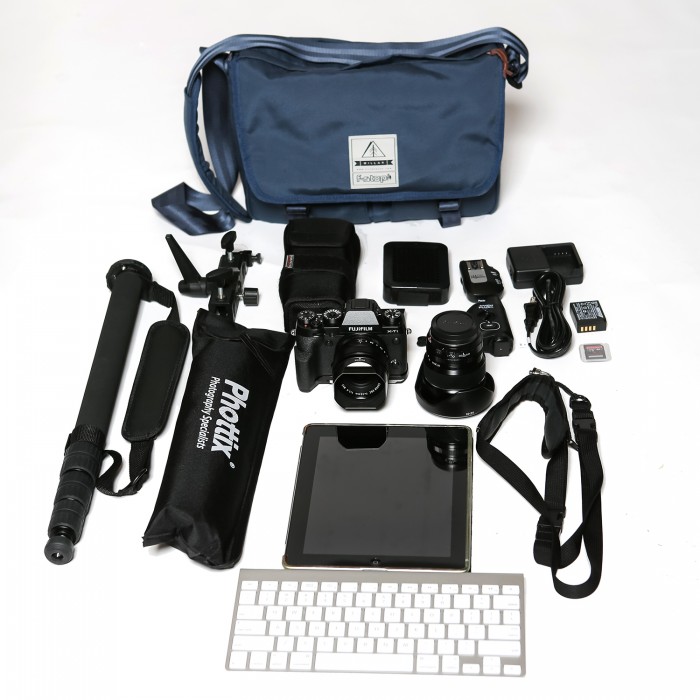 Fujifilm X-T1 camera with grip and black rapid strap
35mm 1.4 lens
10-24mm 4.0 lens
extra battery + charger
extra UHS-ii SD cards
Canon 580EXII w/ Honl grid
Pocketwizards
Phottix double fold 36" shoot through umbrella
Manfrotto carbon fiber monopod that I use with a swivel adapter to mount my flash and umbrella
iPad Air with Adobe Lightroom Mobile & Fujifilm's Cam Remote app
Apple bluetooth keyboard
F-Stop Gear Millar Bandon messenger bag
All of this gear weighs just under 7 pounds and everything with the exception of the umbrella and monopod fits in my small, messenger style bag.
I traveled down to Los Angeles this past weekend to shoot a local band.  They were playing a gig at a club, and I needed to capture some photos for their website and press.  My goal was to travel light and do most of my post-processing from the road/airport.
Post and delivery
After I shot the show, I had a short timeframe to edit and deliver the selects.
The Fujifilm X-T1's wifi transfer along with their remote app allowed me to quickly load all of the photos to my iPad.
After I was done transferring the photos to my iPad via Fujifilm's Camera Remote app, I was able to do some light editing in Adobe Lightroom Mobile.  The awesome thing about doing this, is that it syncs the data between my mobile device's Lightroom app and my desktop app.  When I get back to the office, all of the edit metadata is transferred.
Conclusion
I never have to worry about traveling with my clunky DSLR again to shoot a job this size again.  I'm fully confident that I'm able to do my shoot, capture/transfer the photos to my iPad in the field, do some light editing in Lightroom and export them to Dropbox to send off the the client.
I'd love to hear your travel tips and workflow.  Leave it in comments below.
EDIT – 04/25/2014
I'm getting a lot of questions asking about the ability to edit RAW in LR mobile, and wanted to address it.  YES, you can transfer RAW files to your iPad, however, Lightroom Mobile only edits .jpg's.  Since LR mobile syncs to your home/office computer's Lightroom, it will send all the metadata of the edits you made and apply them to the RAW files once you load that collection.  For this shoot, this scenario worked well for me.  If I were on location shooting a larger, more complicated job, I wouldn't be able to do this without a laptop.
Remember, try to get it right in the shoot first so that there is very little editing/retouching needed.
Comments
comments