To date, I've had a combination of over 750 emails, tweets, DM's, Facebook & G+ messages asking me what settings do I use for my Fuji X-T1.  In this post, I've decided to show my custom settings and why/how I use them for my different uses: studio, street, and casual shooting.  Also, I'm constantly looking for other tips and secrets to help me fine tune my settings, so if you have any suggestions and tips, please send my way!
One of the most fun things about getting a new camera is learning all about the functions and customizing it to your needs.  I've spent a pretty decent amount of time fine tuning my settings to be optimal for how I shoot – and with Fuji's new firmware v3, I felt like I got a whole new camera!  I'm going to break down this post into a few parts: my custom menu settings, Q menu, & settings based on what I'm shooting.  I hope someone learns something from this blog.  Let me know if you do.
---
 My Custom Menu Settings
I love my custom menus.  They allow me to quickly switch modes through the Q Menu so that my camera is ready for the right shooting situation.  These are my current custom settings – I am always tweaking and refining these to optimize my image quality.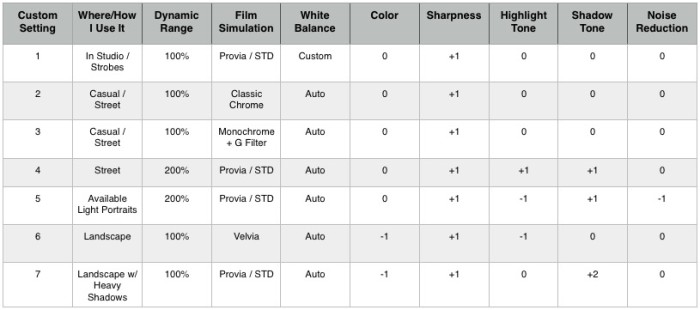 ---
 My Q Menu Setup
The customizable Q Menu is one of my favorite features.  I can quickly enter a custom mode, as well as make fine-tuned adjustments to adapt to my shooting situation.  Here is what I currently have accessible in my Q Menu.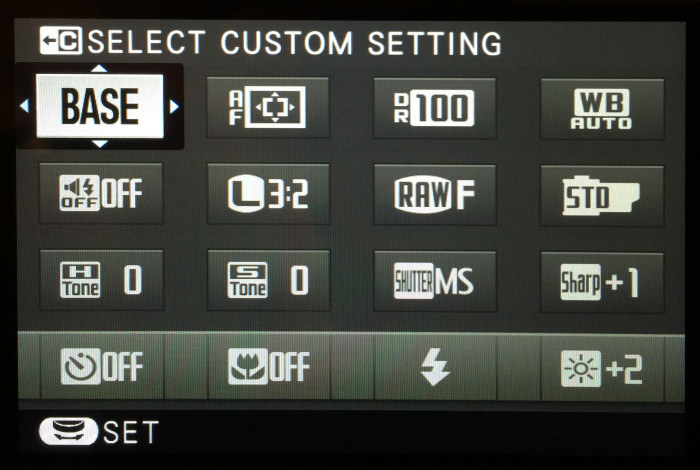 ---
 My Other Settings & Button Assignments
Since firmware v3 came out, I spent a bunch of time fine tuning my camera settings.  As of now, I'm extremely happy with how I setup my Fuji.  Here are my current settings and button assignments: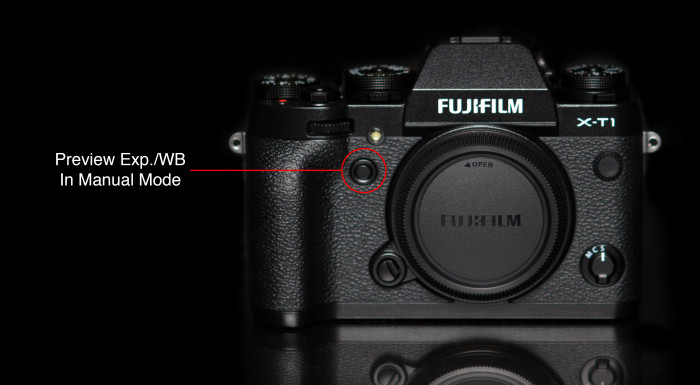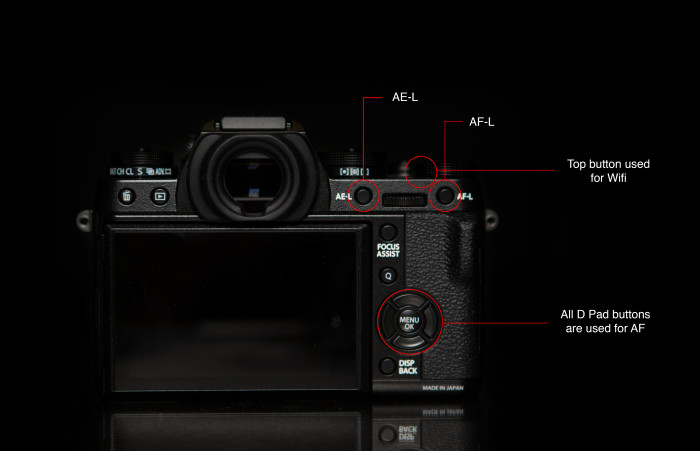 Here are a few of my other important settings:
BKT/Adv. Settings
I use 2 of these settings quite regularly.  I use the AE BKT set at ±1 for when I shoot bracketed HDR photos, and I use FILM SIMULATION BKT set at: Film1: Provia/STD, Film 2: Classic Chrome, Film 3: Monochrome +G Filter.  This allows me to have 3 different looks of photos when I'm out and about shooting.  I typically like to have those 3 types of film simulations so I can print out an Instax print and give to someone.
ISO Auto Settings
I typically set my range between 200 – 6400 with min. shutter speed of 1/60
Image Size
I shoot L 3:2 for mostly everything.  I rarely switch to 16:9 for landscapes – usually I just crop in post.
Image Quality
I always shoot FINE + RAW.  This allows me to have the amazing Fuji jpgs as well as Raws in case I need to adjust.
MF Assist
I always use Focus Peak Highlight Red (High).  This just works for me.
AE/AF Lock Mode
I have it on AE&AF on/off switch
Shutter Type
If I'm in studio, I have to have it on Mechanical Shutter in order for the strobes to work.  Otherwise, I have it set to MS + ES and let the camera decide when I'm out and about.
---
Well, that's it for now.  Like I said, I regularly fine tune my settings as I go along to optimize my output.  I'd love to hear what your settings are.  Leave a comment below, or contact me if you have any questions.
Comments
comments