There are a few reasons why I wanted to do this concept shoot: I wanted to use my Fuji X-Pro1 with strobes, I wanted to use my new 50″ Westcott soft box, and I wanted to play around with some post-production to create a volumetric lighting effect.  So, to start off, photographing a 3 year old is probably harder than solving the national debt.  She just doesn't want to listen to direction to make the shoot go fast and smooth.  So, as a photographer, i had to adapt and deal with the situation.
The setup was pretty easy – a 2 light setup: I used a Westcott 50″ Soft box with a Alienbees B1600 strobe.  Inside the toy kitchen, I had a Canon 580EXII hot shoe flash with a yellow and red gel.  All lights were triggered with my Pocketwizards.
I shot this with my Fujifilm X-Pro1 at 1/125, f.6.3, ISO 200.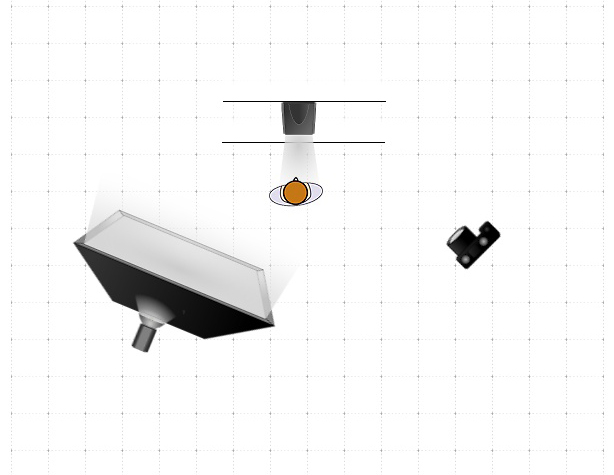 I got my model, er, daughter to play with the kitchen.  Ideally, i was hoping she'd let me put her hair back, and I wanted to get her to have a very surprised expression on her face.  Not-so-much.  She's 3 years old, and VERY opinionated.  I'll take what I can get.
Here's the original photo, straight-out-of-camera: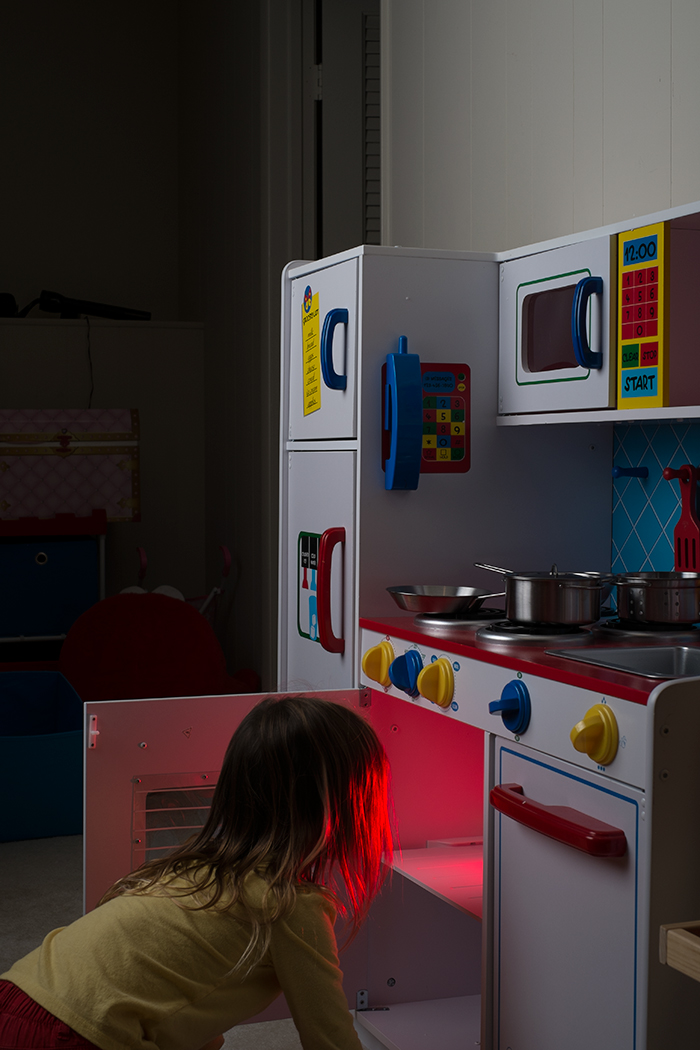 I imported into Lightroom 5 and did some light editing.  Mainly, I cropped the image to 8×10 and adjusted the exposure levels on the outside edges.  Here's what it looked like after the editing: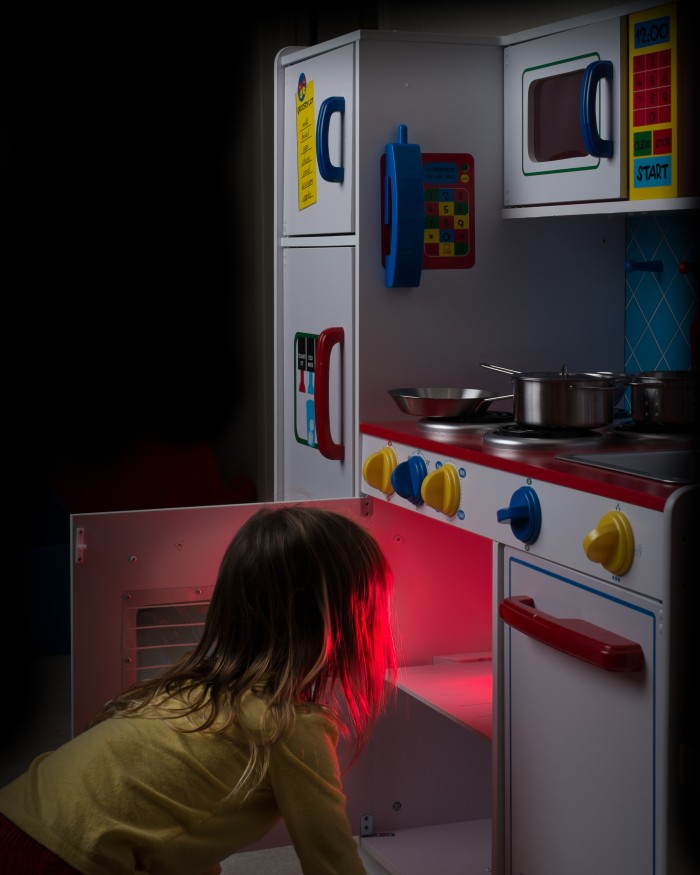 I then took the above image into Photoshop CC.  My goals here were to create some sort of volumetric lighting coming out of the little oven that my daughter is looking in.  It was pretty simple.
Post Production:
I used Curves Adjustment Layers, Gaussian Blurs, Radial Blurs, and painted away the areas I didn't want using masks.  If you are interested in exactly how I did this, contact me and I can walk you through it.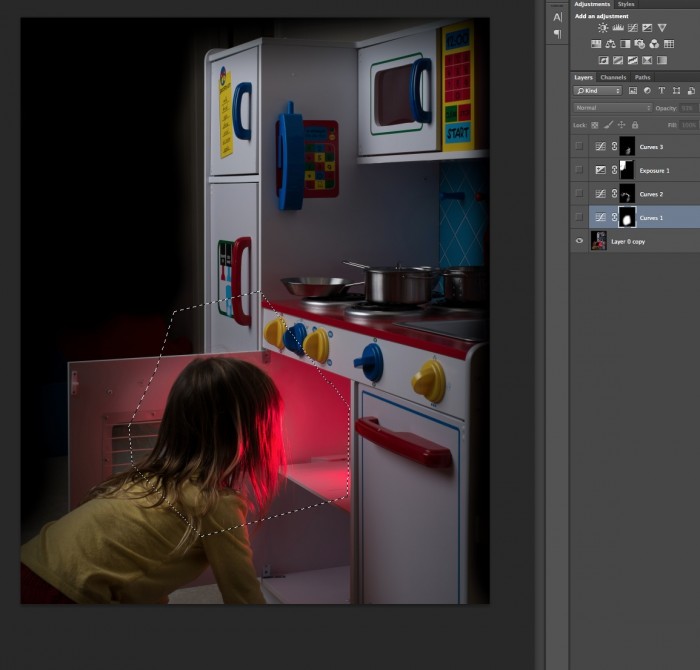 Here's the final image: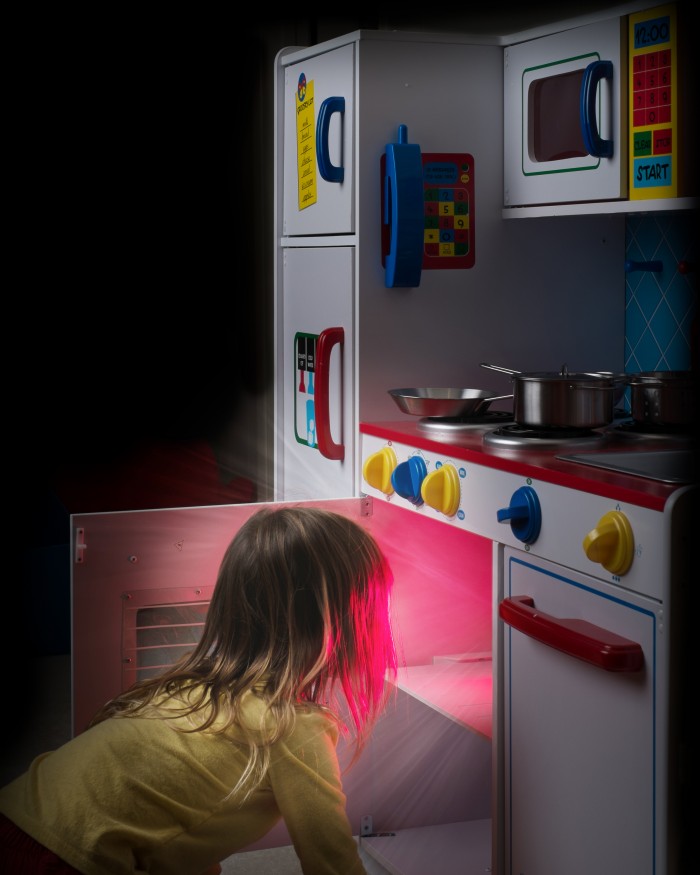 Comments
comments